We are gearing up at Inman Insurance for one of the busiest times of the year for us. No, its not Christmas, its Medicare Annual Enrollment Period. This starts October 15th and goes to December 7th and its a very important time for Medicare insureds. Our agents thought it might be a good time to go over Medicare basics and explain why each annual enrollment is important. Even if you aren't eligible for Medicare yet, this information can prove useful to have.
 Who is entitled to Medicare?
Any U.S citizen and legal resident that is:
 Age 65 or older
 Younger than 65 with a qualifying disability
 Any age with a diagnosis of end-stage renal disease or ALS
What does Medicare cover?
Medicare is a federal program that offers health insurance, commonly referred to as Original Medicare. This program is divided into two parts:
Part A covers: Inpatient Hospital and skilled nursing care.
Part B covers: Doctors visits and outpatient care.
What about Prescriptions?
Part D covers prescription drugs – think D for drugs.  Prescriptions aren't covered under Original Medicare. However private companies can offer plans to get you coverage. Plans vary between companies and costs, as each individuals needs are different.
Why is Medicare Annual Enrollment Period important?
Medicare Annual Enrollment Period, also known as AEP is a certain time of year, October 15th through December 7th. This is when private companies release information on new plans, plan changes and individuals can change plans if desired. For medicare consumers that use private company plans such as Prescription plans or Medicare Advantage plans, knowing what is available can make the difference in getting the care and coverage you need. These plans can change every year and that is why its important to look at them during the Medicare Annual Enrollment Period.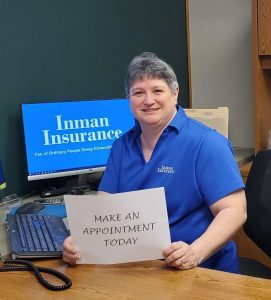 We like our customers and even non-customers to feel confident in their decisions and their knowledge. These are just some basics for Medicare. The questions can seem endless but if you wish to know more or have questions you can always ask our licensed agents in office, over the phone or via email. You can also request an appointment or quote here. By providing your name and contact information you are consenting to receive calls, text messages and/or emails from a licensed insurance agent about Medicare Plans at the number provided, and you agree such calls and/or text messages may use an auto-dialer or robocall, even if you are on a government do-not-call registry.  This agreement is not a condition of enrollment.
If you prefer to look at plans yourself, you can also check out this website, for plans. If you have questions after looking at them, you can still always contact us.
We have offices in Salem, Rolla and Hartville. Saturday and evening appointments are available. If you prefer email, you can email us at info@inmanins.com.
Not connected with or endorsed by the U.S. government or the federal Medicare program.